The 17th Annual Awards Banquet at Randy's Raceway was held last Tuesday and a crowd of 30 enjoyed the awards presentations as well as many giveaways and prizes. This is the first time in many years that 4 different Point Champions were crowned. Modified went to Mark Williams, Cup went to Randy Haydt, Sprint was won by Jim LeVan and the IROC title went to Brian Sponagle.
The night was capped off with an IROC race with Coupes presented by Brian Sponagle ran on 4 lanes. 18 drivers took part in the show which included some wild driving. Randy Haydt won the race followed by Bob Amore, Toby Reinhard, Jim LeVan and Mark Williams to complete the top 5. Cory Reinhard was 6th with Billy Decker and Brian Kisthardt tied for 7th. Alex Amore was 9th followed by Brian Sponagle in 10th.
ROOKIE OF THE YEAR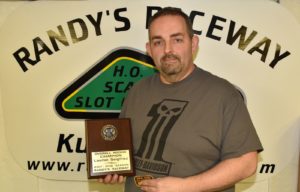 Laudan Seigfried was named the Rookie of the year overall. The Shillington Racer finished 8th in Modified with 13 segment wins 3 top five and 11 top 10 finishes. In NASCAR he was tied for 6th in the final points tally scoring 12 segment wins 3 top 5 and 6 top 10 finishes. His Sprint season showed an incredible 4th place run with 7 segment wins 2 top 5's and 4 top 10's in the 5 race season.
MOST IMPROVED DRIVER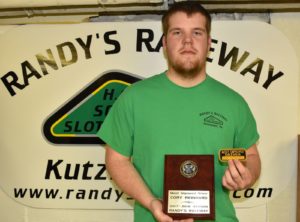 This years Most Improved Driver is awarded to Boyertown H.S. Senior Cory Reinhard. Cory has steadily improved over the years but from last season to this season he made a huge step up. In Modified he went from 8th to 3rd in points with 14 to 24 segment wins a feature win and 4 top 5's. In Cup it was 6th to 4th in points and doubled his segment wins from 5 to 10. He also scored his first career Cup Feature win. Sprint was another 8th to 3rd in the season standings and from 2 to 10 segment wins. He went 5 for 5 in top 5 finishes.
SPECIAL SPORTSMANSHIP AWARD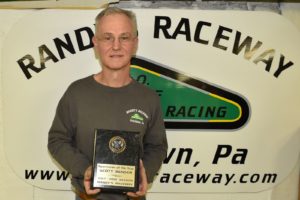 A special Award was given to Scott Bender in appreciation of his Sportsmanship at the Speedways. Scott is always encouraging fellow racers, helps to work on newcomers cars, never calls anyone out for handling issues and does many things behind the scenes that most of us don't even realize.
WAY TO GO ALL SPECIAL AWARD WINNERS AND POINT CHAMPIONS !
All photos by: Scott Bender