It was the annual Road Course race at Randy's Raceway on Tuesday night for the NASCAR Cup car, and the 1st ever IROC race on the Road Course and in the opener Brian Sponagle turned in his 1st career win on the Road Course. Running timed 2 minute segments, Brian totaled 209 laps to score the win. Brian's win makes him the 3rd different winner in Cup action this year. Just 2 laps off the pace Randy Haydt scored a solid 2nd place finish. Cory Reinhard continued a good season with a 3rd place effort his 2nd Top 5 Cup finish. Only 1 lap behind Jim LeVan collected his 4th straight 4th place finish.
Running the same amount of laps Toby Reinhard and Mark Williams finished in a tie for 5th with Toby getting credit for 5th. Mark Williams finished 6th and Brian Vanbuskirk scored his best Cup finish of the year finishing 7th .He also finished 7th last
year in this event. Nick Wummer also ran this race last year but was very competitve on the middle lanes to finish 8th. John
Kosmoski also was making his 1st start on the road course finished 9th and Scott Bender finished 10th.
11th Tony Zappacosta / 12th Billy Decker / 13thAdam Zappacosta
Randy Haydt scores second IROC Win
It was the 1st ever IROC race on the road course running Life Like cars and Randy Haydt scored his 2nd IROC win of the season. Brian Sponagle almost scored a sweep of the night finishing 2nd only 21 pieces of track behind. Only 14 pieces of track behind, Jim LeVan scored a good 3rd place finish his 1st Top 5 finish this year. Cory Reinhard capped off a good night finishing 4th. Toby Reinhard and Mark Williams almost finished in a tie again with Toby getting 5th by only 3 pieces of track.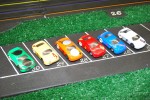 6th Mark Williams / 7th John Kosmoski / 8th Scott Bender / 9th Brian Vanbuskirk / 10th Nick Wummer
all photos by Scott Bender
Road Course Roundup
Hopefully Santa will give Mark some good tape to help keep his body on. Brian's road course win makes him the 3rd different winner in the 3 road course events. Brian Vanbuskirk and Nick Wummer each turned in good runs with not a lot of road course experience. Thanks to Randy for preparing the Life Like cars which I thought were very good for the 1st time running on the road course. Cory and Toby Reinhard continue to collect those Top 5 runs.
NEXT WEEK:
Holiday Modifieds on the 8 lane 25 laps.