A good season of racing in the Small Block division. Randy Haydt who won the point title the past 2 seasons was going for the "Hat Trick". But coming off his 1st Big Block title Mark Williams held off a strong challenge from Bill Rowley to claim his 1st S Block title. Mark scored his single win at Randy's Raceway on the 8 lane. Mark also scored 3 Top 5 finishes and 13 segment wins winning the title by 12 points. Bill started off the season with a 2nd place finish in race 1, followed that with 3 more Top 5's including a 2nd place finish in race 5 at Tom Wenner's oval. Capping off a good year Bill also had 13 segment wins tying him with Mark for the most. Just 4 points behind, Cory Reinhard had a good Small Block season scoring a win in race 5 at Tom Wenner's along with 2 other Top 5 runs coming home 3rd in the final standing. Looking for that 'Hat Trick" point title Randy Haydt had a strong 1st half of the season as he scored 3 Top 5's but 2 finishes outside the Top5 in the final 3 races dropped Randy to 4th in the standing. Randy and Cory each scored 9 segment wins. Jim LeVan scored a win in race 2 at Randy's Raceway then followed that up with a 3rd on the Tri-Oval to finish 5th. Jim scored 8 segment wins.
6-10 Toby Reinhard scored a 2nd place run at Randy's Raceway on the 8 lane, added 5 segment wins to finish 6th. Billy Decker had a 6th place finish in race 2 on the Tri-Oval along with 3 Top 10 finishes to come home 7th. Scott Bender had a 7th place finish on the Tri-Oval to finish 8th. Savannah Cunnius had 2 top 10 finishes on way to a 9th place finish in the final totals. Nick Wummer had a good 8th place finish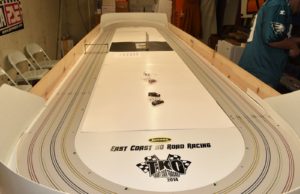 in race 5, scored his 1st segment win capping off a good season with a 10th place finish in the standing.
11-15 Making 4 races Gary Hetrick opened the season with a 5th place finish scored 2 segment wins to finish 11th. Tom Wenner ran 4 races had a pair of 8 place runs, added 2 segment wins finishing 12th. Randall Heilman had a 12th place finish on the Tri-oval finish 13th. Sam Heller made 3 events but scored a win at Woodland Raceway to finish 14th. Bruce Komoldi made 3 events to finish 15th in the standing.
SMALL BLOCK NUMBERS:
This was a competitive series with no repeat winners, Tim " Little T " Bowers, Jim Levan, Mark Williams, Sam Heller, Cory Reinhard and Shane Hiester all scored single wins. Only 13 points separated 2nd to 5th in the standing. Top 7 all scored at least 2 segment wins, with a total of 17 different segment winners.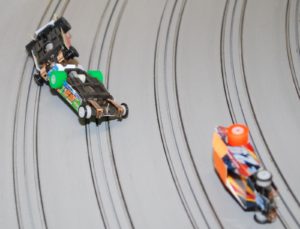 THANKS:
Want to thank all the track owners Tim " Little T " Bowers, Randy Haydt, Mark Willams, and Tom Wenner. Along with everybody who supplied great food and snacks that we all enjoyed. Billy and Linda Decker, Jim and Helen LeVan, Mark and Jody Williams and Kim and Tom Wenner. Next year the Series will be 6 races schedule will be up in the coming months. Also a thanks to Jody for doing a great job with the scoring during the year.
All photos by: Scott Bender