It was race 2 for the BLMRS on Saturday at Randy's Raceway on the challenging Tri-Oval. In the Big Block opener Randy Haydt ran that fast "Chucky" car to 5 segment wins on way to the win. It was Randy's 3rd career BB win. Only 23 pieces of track behind Sam Heller scored 2 segment wins to come home with a good Runner Up finish. Trailing Sam by only 7 pieces of track Mark Williams scored 3 segment wins on the outside lanes to finish 3rd. Scott Bender didn't win a segment but had a steady run of 19's to finish 4th. Toby Reinhard scored 2 segment wins on way to a 5th place finish. Cory Reinhard had a good run finishing 6th. Jim LeVan scored 1 segment win to finish 7th, Billy Decker finished 8th, Bob Amore finished 9th, and Savannah Cunnius finished off the Top 10.
1st Randy Jay Haydt ( middle ) 2nd Sam Heller ( left ) 3rd Mark Williams ( right )
Jim LeVan Claims Small Block Win
In the Small Block main event Jim LeVan scored 3 segment wins to score a close win. Jim's win was by only 6 pieces of track, it was Jim's 2nd career SB win. Almost making a sweep of the day Randy Haydt scored 5 segment wins having to settle for a 2nd place finish. Sam Heller finished off a good day scoring 1 segment win to finish 3rd. Mark Williams also had a good day running all 19's to cross the line 4th. Cory Reinhard had a strong run on the middle lanes winning 3 segments to close out the Top 5. Bob Amore was 6th, Scott Bender was 7th, Billy Decker was 8th, Toby Reinhard scored 1 segment win finishing 9th, Savannah Cunnius was 10th.
1st Jim LeVan ( middle ) 2nd Randy Jay Haydt ( left ) 3rd Sam Heller ( right )
PUNTS AND PASSES:
13 racers were in the pit area, along with new comer Robert London hope to see him back again. Want to thank Jim and Helene LeVan for the outstanding spread of food they supplied for us.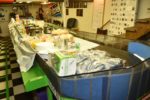 Toby Reinhard had a rare crash out caused by a bent guide pin. Bob Amore also had a crash out due to a bent motor cover.
Photos by Scott Bender
Next Berks / Lebanon Race:
Saturday November 19th at Randy's Raceway Kutztown, PA on the 8 lane Tomy Oval
Warm-ups at 1 pm racing at 2 pm.