Sixteen year old Brett Gilmore will be the driver of car #7 at Big Diamond Speedway this season. 
Brett is the son of Current Modified Driver Kenny Gilmore who currently runs the #14 at Grandview.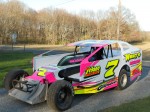 Brett is also the Grandson of Modified Driver Charley Gilmore.  Brett is the third generation from the Gilmore family who wheels Dirt Modifieds and comes from a long a sucsessfull career racing Go carts.  Mainly at Oreville Cart track in Topton Brett was a many time Champion and winner of more than 100 features.
Randy's Raceway wishes the best of luck to one of our own members.