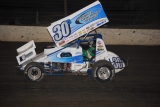 The rescheduled Sprint Car 40 lap was run on Wednesday night and Kenny Gilmore again turned in a dominating run as he cruised to the win, scoring 6 segment wins. Randy Haydt ran his Skoal Bandit #33 to a good 2nd place finish scoring 3 segment wins. Sheldon Hiester won 2 segments to cross line the line with a 3rd place finish. Mark Williams had a steady run including a win on lane 8 to finish 4th. Billy Decker finished off a good week with a 5th place finish.
6th Jim Levan – 7th Bob Amore (2wins) – 8th Shane Hiester – 9th Scott Bender – 10th Cory Reinhard.
Winged Wednesday
Good to see Tony Z making his 1st sprint car event. Thanks to Scott, Mark, and Monk for their contributions to prize fund. The Wednesday race seemed to have Randy a bit confused ??