Race 4 of the BLMRS was held Saturday at Woodland Raceway in Boyertown, PA. A strong field of 19 racers were in the pit area and in the very competitive Big Block opener Mark Williams made it 2 BB wins in a row. Mark turned in a sweep on his way to the win. Mark needed every piece of track as he held off Tim " Little T " Bowers by 2 pieces of track. Little T scored 5 segment wins for a 2nd place finish. Trailing Little T by 1 piece of track Scott Bender also scored 5 segment wins for his best BB finising in 3rd. Also on the lead lap Randy Haydt scored 1 segment win to finish 4th. Making his initial Berks Series start Lauden Seigfried ran high 19's turning in a solid 5th place run. Jim LeVan scored 1 segment win finishing 6th.Tom Wenner got his 1st segment win on way to a good 7th place finish. John Kosmoski turned in a 8th place run. Toby Reinhard came home 9th and Billy Decker finished 10th .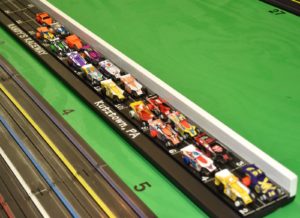 Sam Heller Gets First Small Block Win
Small Block racing capped off the day and Sam Heller scored 2 segment wins on way to his 1st SB win of the year, it was his 2nd career win both at Woodland. Sam's win was by 1 lap over Tim "Little T" Bowers who had a slow run on lane 1 but came back strong winning 5 segments for a good 2nd place finish. Just 3 pieces of track behind Mark Williams and Lauden Seigfreid crossed the line tie for 3rd. Mark scored 2 segment wins on lanes 1 and 2, Lauden finished off a good with a segment win on lane 2.Toby Reinhard scored 1 segment win finishing 5th.Toby was 21 pieces of track ahead of son Cory who scored 1 segment win finishing 6th. Billy Decker got his 1st SB segment win finishing 7th. Tom Wenner with his 2nd Top 10 of the day was 8th. Jim LeVan was 9th, Scott Bender finished off the Top 10
HOLIDAY CHEER:
Big Block had their 1st Non -stop segment that included Billy Decker, John Kosmoski, Bruce Komodi, Ed Kenderdine, Randy Haydt and Rob London, with Randy winning that segment. Mark's BB win makes him the 1st repeat winner, Sam's SB win makes 4 different winners in 4 races. Good having Ed Kenderdine and Lauden Seigfied making their 1st Berks Series start. Finally want to thank Mark and Jodi for their food and drinks and fine hospitality that everyone enjoyed, and to everyone else who bought their favorite dishes for everyone.
NEXT RACE:
Saturday January 13,Wenner Speedway, Blandon Pa ( more details to follow )
photos by: Scott Bender