It was the 9th Annual 40 lap Sprint Car Championship race Tuesday night at Randy's Raceway on the fast 8 lane oval. A good field of 17 fast sprinters were ready for action and Mark Williams scored 6 segment wins on way to his 1st victory in this annual event. Mark's win was by 1 lap over Kenny Gilmore who had won the previous 8 races, Kenny scored 6 segment wins. Only 2 laps behind Brett Gilmore scored 3 segment wins coming home 3rd. Sheldon Hiester claimed 1 segment win to finish 4th. Shane Hiester also scored 1 segment turning in a good 5th place finish.
6th Jim Levan (1win)  /  7th Mike Fitzgerald  /  8th Randy Haydt  /   9th Bryan Kisthard  /  10th  Billy Decker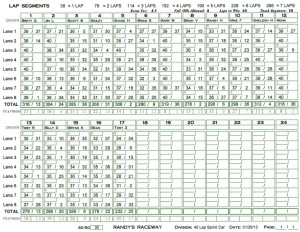 HOT WINGS: Good to see the field increase from last year. A lot of 1st time starters for this event include Corey Bailey, Brian Sponagle, Mike Fitzgerald, Bryan Kisthard & Brian Palencar. Thanks to those who helped sponsoring Tom Hiester Miniature Cars, Mark Williams, & Kenny Gilmore. Don't forget sandwich sale papers for next week.
Racing returns next week with Twin 15's for Modifieds on the Short track.