Randy's Raceway Race Results from Tuesday, November 23, 2021
By: Wenner Media Group
***Michael Mackaravitz sweeps the IROC Double Header on the famed Randy's Raceway Aurora Tub Track ***
Special Thanks to Brian Sponagle for providing 2 outstanding IROC Sets for all of the racers to race with on Tuesday Night. Thanks to Randy Jay Haydt for his continued efforts to keep us racing. Behind the scenes Randy has put a major effort into collecting, refurbishing and working on the IROC controllers for us all to enjoy each night we race IROC's.
IROC Race One:
Fast & Furious IROC Set
Michael Mackaravitz is looking to steal the Mr. IROC crown & nickname from the Randy's Raceway racers. On Tuesday night Michael Mackaravitz won the Fast & Furious IROC opening night race by scoring 3 segments and almost winning the 4th in an attempt at a sweep. Michael Mackaravitz only de-slotted 3 times over the 4-race set. Michael Mackaravitz win was 8 track pieces ahead of 2nd place finisher Chris Brubaker. Chris Brubaker returned to Randy's Raceway action and immediately staked claim to the 2nd spot in the Fast & Furious IROC action. Chris Brubaker won 1 segment in this race set and beat the 3rd place finisher, Jim LeVan by 4 track pieces. The final podium finisher of the Fast & Furious IROC Set was Jim LeVan. Jim LeVan won 2 segments in this race and beat 4th by only 3 track pieces.
4th – Brian Sponagle – 2 segment wins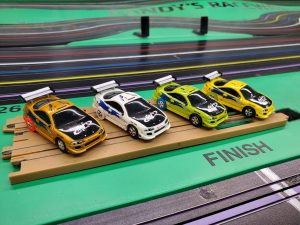 5th – Sheldon Hiester – 2 segment wins
6th – Randy Jay Haydt – 2 segment wins
7th – Hiram Durant – 1 segment win
8th – Tom Wenner
9th – James Hammershock – 1 segment win
10th – Shane Hiester – 1 segment win
11th – Matt Light
12th – Brian VanBuskirk
13th – Jordan Hess
14th – Bill Decker
15th – Tony Zappacosta
16th – David Foreman
IROC Race Two:
AFX Mega G Nascar Mustang IROC Set
Michael Mackaravitz doubles up in the 2nd IROC Division feature event. Michael Mackaravitz won 2 segments in the AFX Mega Nascar IROC racers. With a sweep of the night, Michael Mackaravitz edged Randy Jay Haydt by 5 track pieces for the win. Randy Jay Haydt who did not win any segments, edged Tom Wenner for 2nd place by 5 track pieces. Tom Wenner won 3 segments on the night for the final podium spot for the IROC nightcap.
4th – Sheldon Hiester – 3 segment wins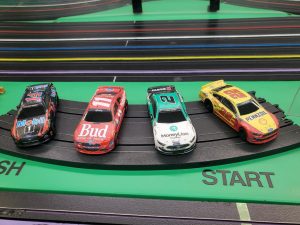 5th – Jim LeVan – 1 segment win
6th – Chris Brubaker – 1 segment win
7th – Brian Sponagle
8th – Matt Light
9th – Shane Hiester – 1 segment win
10th – David Foreman – 1 segment win
11th – James Hammershock – 1 segment win
12th – Jordan Hess – 1 segment win
13th – Tony Zappacosta
14th – Hiram Durant
15th – Brian Vanbuskirk
Parma Notes:
16 drivers in attendance for IROC night. Thank You to everyone who came out and supported us, A truly awesome evening of racing. If you have not attended an IROC race yet, Check it out. No controllers or cars are needed. Randy has pre-selected IROC sets from veteran racers for use during the season. The sets selected have been matched to the tracks for use. This creates a true racers experience as the IROC sets make it a challenging driver raced event. New for 2021, Randy is providing controllers for use at all IROC events. The controllers stay at the track, at each lane and are used by every racer. Congrats to Jordan Hess & David Foreman for winning their 1st segment wins on the Aurora Tub on Tuesday. There was some interesting Parma Controller use on Tuesday, I think several racers are wondering where the Blue Parma Controller went after Randy raced. The look on Hiram's face after the segment was priceless . Wishing everyone a Happy Thanksgiving and Safe Holiday
Next Up:
November 30, 2021
TYCO Modified Racing
Randy's Raceway 8 Lane Oval
Lanes 3 to 8
Doors Open @545p
Practice @600p
Racer Draw @645p
Racing Action @700p
Sam Heller Classic – Round 2 of the Memorial Triple Crown Series in 2 weeks