Randy's Raceway Freddy Mac Coupe Night Race Results from Tuesday, February 8, 2022
Mike Fitzgerald scores an impressive TYCO 440×2 Coupe Modified feature win on Freddy Mac Night at Randy's Raceway
Mike Fitzgerald scores 2 segment wins on Freddy Mac Coupe and secures a strong feature win on the Randy's Raceway Tri-Oval. Fitzie won the race by 13 track segments.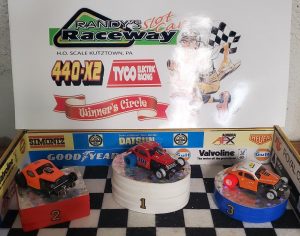 Finishing in 2nd place was Michael Mackaravitz with 2 track segment wins. The final podium spot is going to track promoter Randy Jay Haydt. Randy was only 2 track pieces out of 2nd place and 15 away from the win.
4th – Brian Sponagle – 2 segment wins
5th – Tom Wenner – 1 segment win
6th – Sheldon Hiester – 2 segment wins
7th – Matt Light – 1 segment win
8th – Toby Reinhard – 3 segment wins
9th – Mike Feltenberger – 1 segment win
10th – Jim LeVan – 1 segment win
11th – Shane Hiester – 1 segment win
12th – Bill Decker
13th – Jordan Hess
14th – Brian Vanbuskirk
15th – Tony Zappacosta
16th – James Hammershock
17th – Eric Beard – 1 segment win
18th – Greg Leedy
Special Thanks goes to Fred McCullough owner of Freddy Mac Bodies for the Coupe Night race sponsorship. Freddy made 18 coupe and sedan bodies – Painted and Decaled them – Then gave away 1 body to each racer in attendance. Thank You Fred for being a great friend of Randy's Raceway and to all us racers!
Oldie Notes:
18 drivers in attendance. Only 1 class was run due to time constraints. A teardown of the winner in tech and 2 others yielded all positive results. Close Racing is the name of the game at Randy's Raceway – Winner had a 70-29, 5th place 70-1. Top 5 racers were less than a lap. Toby Reinhard back racing at Randy's Raceway after a layoff and Toby knocked off the rust by scoring 3 segment wins.
Next Up:
410 Sprint Cars on the 8 Lane Oval
Lanes 1 to 6
Sprint Car Points TOP – 5
Media: Wenner Media Group