Randy's Raceway Race Results from Tuesday, September 14, 2021
By: Wenner Media Group
Randy Jay Haydt fights off a strong effort by Sheldon Hiester to score back to back Feature Wins
For the 2nd week in a row, Track Promoter Randy Jay Haydt took the field to school on the 8 Lane Oval . This time the NASCAR hard bodied race cars were the racing division of choice. Randy wheeling the famed Freddy Mac Harry Gant vintage throwback #33 scored 5 segment wins and only fell off once. Randy was near perfect as he was edged out in the 1st lane at the start of racing. Finishing in a close 2nd with an equally strong car was Sheldon Hiester. Sheldon won 4 segments on the night and was less than a half lap behind on the win. Matt Light wrapped up the podium spot in 3rd. Matt wheeling a beautiful Tony Steward Coke 14 to 2 segment wins. Matt was only a half lap out of 2nd.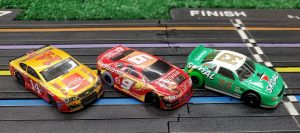 4th – Shane Hiester (1 Segment Win)
5th – Tom Wenner (1 Segment Win)
6th – Bill Decker
7th – Mike Fitzgerald (1 Segment Win)
8th – Scott Bender
9th – Jim LeVan
10th – Michael Mackaravitz
11th – Hiram Durant
12th – James Hammershock (1 Segment Win)
13th – John Kosmoski
14th – Ed Kenderdine
15th – Brian Vanbuskirk
Hard Body Notes:
15 drivers in attendance. A super well run show, All racing was completed by 815p. Some great tight racing by everyone. Word in the pit area is that a bounty may be put on the track promoter at the next race. Congrats to Brian Vanbuskirk scoring the coveted Racer of the Week Award and Special Parking Spot. Brian raced 76 laps without a de-slot .
Next Up:
September 21st
TYCO Modified Race
8 Lane Oval
Lanes 1 to 6
Doors Open 545p
Practice 600p
Draw 645p
Racing starts at 700p