By: Wenner Media Group
Tuesday, April 5, 2022
4 Champions were crowned at Randy's Raceway on Tuesday.
Modified Matt Light
NASCAR Randy Jay Haydt
Sprint Car Sheldon Hiester
IROC Michael Mackaravitz
Randy truly goes all out when he celebrates his season at the banquet each year. This year was no different. The sticker machine was running on overload as Mr. Haydt had a special sticker for every celebration possible. A word heard often on Tuesday "I am in sticker contention"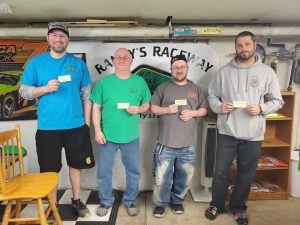 Randy does an amazing job creating detailed stat books for any racer that attends 50% of the events held over the course of the season. Almost all of the racers in attendance received detailed stat books.
Randy created custom stickers to celebrate:
Feature Wins
Flagmen
Tech Inspectors
Camera Man
Facebook Guru
Top 3 in Points
Participation Stickers
Triple Crown Memorial Stickers
Sponsor Stickers
Stat Guy
Number Generator
Parts Supplier
We have many people to Thank & Appreciate for their efforts at Randy's Raceway this season.
Timothy J. Bowers Jr / Little T's Speedway – Tim goes over and above every year. This year at the banquet Tim provided every racer (20+) with a Stock Tyco Armature. Thank You Tim!
Jim LeVan / Each season Jim provides NASCAR Diecast for the door prize awards. Jim had several on the table for appreciation
Mike Feltenberger / Strapped-In TV Show – Mike brought several new T-Shirts to given out for door prizes
Bob Amore – In Bob's Memory, Randy fired up the printer and ran off a set of bodies for each racer to take. This was a very emotional point of the banquet for those in attendance. Bob's impact on the hobby continues to touch all of us.
Bill Decker – Billy donated a pile of parts this season for the Memorial Triple Crown Series. He built and tuned each car for the racer giveaways.
Hiram Durant – I am sure after this week, Hiram needs a new printer. The Sticker Man had it working OT this past week. Durant's sponsorship of the use of the printer allows Randy to create some very cool stickers for all the racers pit boxes.
Fred McCullough – Freddy Mac helped created the NASCAR and Coupe bodies won in the Triple Crown Series. But, Over and Above Fred's work which is second to none – Fred donated a completely new painted and decaled Coupe Body to every racer on the final night of Tri-Oval Coupe Racing. I believe that number was over 18 that night. Thank You FM for your continued support of Randy's Raceway
Tom Wenner – Tom was the Triple Crown Series Sponsor. All of the money taken in for all 3 race events was paid back out to the drivers. Trophies for the Top 3 in points were sponsored by Wenner Media Group / Race Pro Weekly. The 3 TYCO 440×2 giveaway cars were provided by Tom as well.
Scott Bender – Scott sponsors the Christmas Photo Night By Scott Bender at Randy's Raceway. Scott is an outstanding local racing photographer who covers racing action weekly at Grandview Speedway and other northeast racing tracks. Scott graciously donates autographed 8X10's of the area drivers in competition for the event.
Randy Jay Haydt – I saved the best for last. Randy opens up his house for everyone from August to April every Tuesday night. He only asks for $1.00 to race. The fridge is always stocked with cold drinks. In March we get to drink green beer . He goes out of his way to help everyone at his track or their own track. Many of us have had Randy over to wire, fix or work on our own tracks. He rarely asks for anything & is always quick to volunteer help. On any Tuesday night you can find a ride or controller waiting for you. Thank You Randy for being you
Pizza was enjoyed by all of the racers after the awards.
Special Thanks to Helen Levan for delivering deviled eggs & Thank You to Deb Hiester for delivering brownies to the racers. All was very good and enjoyable by all.
Once a year Randy's Raceway breaks out the Tyco Tractor Trailers for IROC Racing. They are used for special event racing only. With 20 racers in attendance, The decision was made to run the IROC Race with crash & burn rules. If the trailer detached from the cab, Your night was over in that lane.
NJ Invader Dave Kosch steals the Banquet IROC Tractor Trailer Race

Dave Kosch is sending word that he plans to race the IROC series in '22 at Randy's Raceway. Kosch scored the Tractor Trailer IROC feature win with 2 segment wins and a clean 4 lanes. Kosch won easily as 2nd place was 9 track segments behind him. Congrats to the popular NJ Trigger squeezer. Scoring a 2nd place podium run was Hiram Durant. Durant with a clean run and 2 segment wins. Durant with a strong 2nd place by 13 segments. Wrapping up our podium finishers was John Kosmoski. John will a clean night and 1 segment win.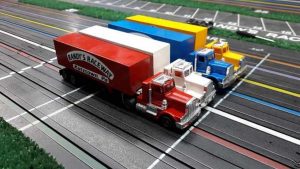 4th – Eric Beard – 2 segment wins
5th – Randy Jay Haydt – 1 segment win
6th – Shane Hiester
7th – Jordan Hess – 1 segment win
8th – Brian Sponagle – 1 segment win
9th – Sheldon Hiester – 1 segment win
10th – Greg Leedy
11th – Matt Light
12th – Chris Brubaker – 2 segment wins
13th – Jim LeVan – 1 segment win
14th – James Hammershock – 2 segment wins
15th – Tony Zappacosta
16th – David Foreman – 1 segment win
17th – Mike Fitzgerald
18th – Mike Feltenberger
19th – Michael Mackaravitz
20th – Brian Vanbuskirk