Randy's Raceway Opening Night Tuesday, September 8, 2020 FUN Race Results
Winner – Tom Wenner
3rd Place – Jim LeVan
The doors have finally opened at Randy's Raceway and the FUN themed season is off a SPEEDY start.
Tom Wenner scored a convincing Nascar Feature win with a perfect race night winning all 4 lanes and having zero de-slots. Finishing in second place was track promoter Randy Jay Haydt who scored 2 segment wins on his way to the runnerup finish. Jim Levan rounded out the Nascar podium with a solid 3rd place run.
4th- Chris Brubaker
5th – Hiram Durant
6th – Brian Sponagle
7th – Toby Reinhard
8th – Bill Decker
9th – Austin Yerk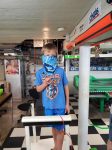 Door Slammer Notes:
Track Promoter Randy held a short driver's meeting at the start of the night to review a potential Kutztown Boro Ordinance they may affect racing moving forward this season. Randy reviewed with the driver's in attendance a plan to race on Tuesday and Wednesday Nights this season in smaller groups of 10 or less. Please stay tuned to the tracks Facebook Page, Website and Email for details this weekend in regard to racing next week. Randy will need to know in advance of all driver's plans to race so we can provide a racing slot on 1 of the 2 scheduled race nights…More details to come on this. With 9 drivers in attendance for the new FUN themed racing Nascar Tyco 440×2 Bodied cars were on the card for racing. It was decided by the group to race 4 lanes – 3,4,5, and 6 and race for 15 laps. Action in the Hot Lanes was fiercely
competitive. We saw some of the most competitive wheel to wheel racing in several years. We had 2 photo finishes that needed a camera replay to determine the winners. Almost every segment the race for the lead was 2 & 3 wide racing down to the finish.