Matt Light tackles the Randy's Raceway Tricky Tri-Oval going back to back in Modified competition with his 2nd Modified win of the '22-23 season, this time in the vintage coupe class
Light won the last Modified race on the 8 lane oval and the defending champ is serving notice that Team Light has those Tyco's hooked up for '22-23 season. Light won 4 of the 6 segments on the Tricky Tri-Oval in covering the field by a full lap. Matt won on lanes 2,3,5 and 6. Sheldon Hiester and Randy Jay Haydt tied for 2nd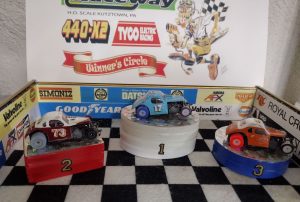 place. Hiester the Opening Day Modified winner won 4 segments and broke the 2nd place tie by a segment win tiebreaker. Track owner Randy Jay Haydt scored segment wins on lanes 2,3 and 4 while locking down the final spot on the podium.
4th – Mike Fitzgerald – 1 segment win
5th – Shane Hiester – 1 segment win
6th – Scott Bender – 1 segment win
7th – Jim LeVan – 1 segment win
8th – Toby Reinhard
9th – Jordan Hess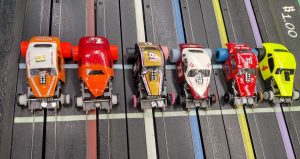 10th – Bill Decker
11th – John Kosmoski
12th – Hiram Durant
13th – Brian Vanbuskirk
14th – Mike Feltenberger
15th – Ashley H.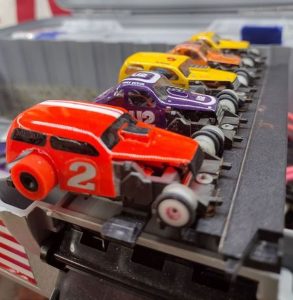 Tri-O Notes:
15 strong for the 1st vintage coupe race of the '22-23 season. Feature Winner Matt Light called 6 on the dice and rolled a "6". A teardown was required and all drivers were legal in the teardown of Tyco's.
Pictures by Toby Reinhard
Wenner Media Group