Randy's Raceway Sam Heller Memorial Triple Crown Series Race Results from Tuesday, December 6, 2022
Road Racing Specialist Jim LeVan scores the Sam Heller Memorial NASCAR feature win on the challenging Randy's Raceway Tubbie
Round 2 of the Randy's Raceway Memorial Triple Crown Series honored our friend Sam Heller on Tuesday night. Sam loved to race on Randy's Tub track and would always support the IROC, Tjet, MAHOPRA and Tuesday Night TYCO events whenever it was advertised that action would be on the original Aurora Tub.
Veteran TYCO racer Jim LeVan scored another feature win on the Randy's Raceway Tub. This TYCO NASCAR win was a powerful score for the veteran Shillington Controller Racer. LeVan was near perfect as he won 5 of the 6 segments and only deslotted 3 races, 2 were on lane 1 as LeVan went almost perfect the rest of the way. Another Road Race expert in the field finished 2nd, Randy Jay Haydt who races many forms of slot cars on road race events outside of his own tracks. Haydt won 4 of 6 in his run to 2nd place on the evening. The final podium finisher is another driver with plenty of road racing experience, Mike Fitzgerald. Fitzie is a seasoned road race vet with MAHOPRA, Tjet and TYCO Roadie racing over the years. Fitzie scored 1 segment win in his campaign for 3rd place.
4th – Sheldon Hiester – 2 segment wins
5th – Matt Light – 1 segment win
6th – Charles Sheaffer – 2 segment wins
7th – Mike Wiest – 1 segment win
8th – Jordan Hess – 1 segment win
9th – Brian Sponagle
10th – John Kosmoski
11th – Shane Hiester
12th – Bill Decker
13th – Scott Bender
14th – Brian Vanbuskirk
15th – Elmer Santiago
16th – Brayden Light
17th – Ashley Hess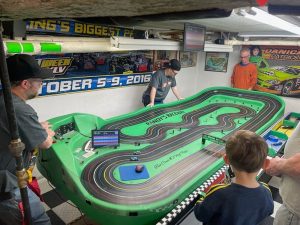 Memorial Ramblings:
17 Strong in support of the 2nd leg of the Memorial Triple Crown Series. Thank You to everyone who came out and support the special event. Shane Hiester & Jim LeVan are the Memorial Triple Crown winners to date, with the final leg scheduled for January 24th – The Bob Amore Memorial. Congrats to new racer Brayden Light on his 1st night squeezing the controller with the guys. Brayden is the son of Mod Champ Matt Light. Brayden finished on the lead lap on the very tough Aurora Tub Track lane #4. The young racer has a bright future following his dad. It was great to have Chuck Sheaffer invade the road racing on the tub. Chuck took down a solid Top-10 with 2 segment wins. Mr. IROC aka "Spoons" made his return to racing with a quiet night adjusting to the left and right turns. Mike Wiest invaded the Sam Heller Memorial and ripped off a segment win along with a solid Top-10 finish. Mike's personal slot car and toy collection is museum quality, ask Mike for a video tour. It is super impressive.
Next Up:
December 13th – Modified Racing returns to the 8 Lane Oval with a random 6 lane race.
2022 is speeding past us, We hope to see all of our slot car friends soon at Randy's Raceway
Media: Wenner Media Group