Randy's Raceway Sprint Car & IROC Doubleheader Race Results
Sheldon Hiester brings the broom out and sweeps both ends of the Randy's Raceway Tuesday Night Thunder
Sheldon Hiester broke into the Sprint Car victory lane for the 1st time in '22 on the Randy's Raceway 8 Lane Oval. Sheldon was sitting 5th in points, but within striking distance of the point leaders in race #3 of 6 for the year in Sprint Cars. Hiester had a rocket winning 5 of the 6 racing segments presented on Tuesday. Sprint Car Point Leader Matt Light rallied to finish 2nd with a strong run on Tuesday. Light won 2 of the 6 segments that he raced.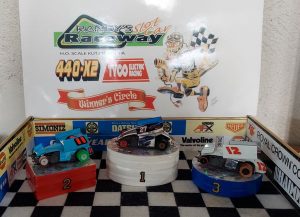 Cracking the podium for 3rd in a Light Motorsports entry was Jordan Hess. Jordan Hess just missed beating his boss by 2 track segments. Matt had 70-25 and teammate Jordan scored a 70-23 for the final spot on the podium. Jordan won 1 segment of the 6 raced.
4th – Mike Fitzgerald – 2 segment wins
5th – Scott Bender – 2 segment wins
6th – Eric Beard 1 segment win
7th – Randy Jay Haydt
8th – Kevin Kreiser
9th – Shane Hiester – 2 segment wins
10th – Tony Zappacosta
11th – Jim LeVan – 1 segment win
12th – Elmer Santiago
13th – John Kosmoski
14th – Bill Decker
15th – Brian Vanbuskirk
16th – Ashley Hess
In the nightcap event – promoter Randy Jay Haydt broke out the AFX Magna Traction Chargers for racing action. Sheldon Hiester went 2 for 2 scoring the IROC win on the Randy's Raceway 8-Lane Oval. The IROC win was Sheldon's 2nd IROC win of the season. Hiester was 3rd only 3 points out of the point lead entering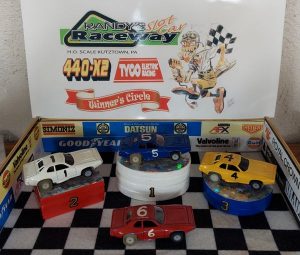 the night of racing. Sheldon won by 3 track sections over Randy Jay Haydt with scores of 19-14 and 19-11. Randy only deslotted 1 time on 4 lanes of racing action. Randy scored 2 segment wins on his run. Veteran Brian Vanbuskirk pulled together a solid AFX IROC run with a podium finish. Brian V was only 2 track sections out of 2nd and 5 back for the win. Congrats to Brian V. on the 3rd place run, Brian won 1 IROC segment.
4th – Jordan Hess – 3 segment wins
5th – Jim LeVan – 1 segment win
6th – Tony Zappacosta
7th – Matt Light – 1 segment win
8th – Shane Hiester – 1 segment win
9th (Tied) – Eric Beard – 1 segment win
10th (Tied) –Kevin Kreiser – 1segment win
Santa's IROC Notes:
Thanks for everyone coming out to support a doubleheader on a busy Christmas week. 16 for Sprints and 10 for the IROC. Big Congrats to Brian V. for hitting the podium in IROC. Score one for the veterans. Welcome Kevin Kreiser to Randy's Raceway. Kevin with 2 Top-10's.
Up NEXT – Scott Bender Photo Night
Modifieds hit the Randy's Raceway 8 Lane Oval for the special Christmas Holiday Modified 15 Lap special event. Racers will run all 8 lanes in this special 15 lap event.
Scott Bender is a premier northeast racing photographer covering Grandview Speedway, Big Diamond Speedway, and many PA/NJ Tracks across the region. You can find Scott's work in many racing publications across the media platform. We are proud to have Scott present this special event every year.