Modified Race Results: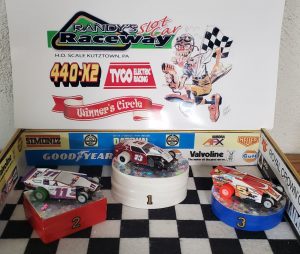 Winner: Tom Wenner
2nd Place: Brian Sponagle
3rd Place: Randy Jay Haydt
Tom Wenner races a fresh Decker Motorsports built car to a convincing 1st career Modified Feature Win. Tom won all 4 segments on the way to his 1st career Modified feature win. Finishing in 2nd having a very strong night with 1 segment was Brian Sponagle. Brian won 1 segment win. Rounding out the podium was track promoter Randy Jay Haydt. Randy won 1 segment. The top 3 were extremely tight, All on the lead lap. Only 10 track pieces separated 1st to 3rd.
4th – Toby Reinhard
5th – Mike Fitzgerald
6th – Eric Beard
7th – Jim LeVan
8th – Bill Decker
410 Sprint Car Race Results: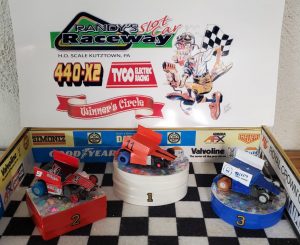 Winner: Bill Decker
2nd Place: Mike Fitzgerald
3rd Place: Eric Beard
Veteran Racer and Car Builder Billy Decker raced to a 410 Sprint Car Feature win in the nightcap event at Randy's Raceway. Billy was super fast wheel the high powered 410 Sprints around the 8 lane oval. The racing in the Sprint car class was hands down 1 of the best races in several years. 1st to 4th were separated by less than 14 track segments. All of the racers were highly contested and close racing. Billy was on his game last night cruising to 1 segment win. Billy edged out 2nd place finisher Mike Fitzgerald by 4 pieces of track for the feature win. Mike edged out Eric Beard by 3 pieces of track for 2nd place. Eric had a rocket all night and won 3 segments on the night.
4th – Toby Reinhard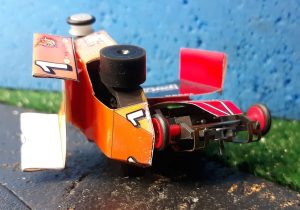 5th – Jim LeVan
6th – Randy Jay Haydt
7th – Tom Wenner
8th – Brian Sponagle
Pit Gossip:
Congrats to Billy Decker on the feature. It was nice to see Bill Decker get that feature win. Billy works very hard on his stuff and is always willing to help new people and current racers get going. This was a win for all of us. It was SO cool to see Billy's reaction when the scores were posted. Billy also got to share a piece of Modified victory lane – The #73 Gary Balough car Tom Wenner drove to the win was a fresh built car by Bill with a stock armature. Not cut or advanced, Bone stock. If you need a car built – Bill is on his game this season. Incredibly close action in the 410 Sprint Car race. 1st to 5th were covered by a blanket. 8 racers showed up to compete – We are racing lanes 3-4-5-6 which has shown the group to be very competitive. Great to see Eric Beard hit the podium this week, Eric has been fast and finally put together a solid run with the Sprints. Missing in action this week – Mike, James and Hiram who is currently away. Randy 2.0 is not himself when Hiram is not here. Check out the photos posted – 1 of the closest finishes in Randy's Raceway history – Bill Decker v. Toby Reinhard for the Sprint Car win. We also had some rough wrecks. The Speed Shop will be busy repairing cars this week.
Next Week:
October 6 – NASCAR & IROC on the 8 Lane Oval – IROC Class TBD