Tuesday April 12, 2011 was the Annual Awards Banquet at Randy's Raceway.  The night started out with the awards being handed out to all the racers that ran enough events to be in the top 15 in points.  Each racer received a hat, yearly statistics book, and a cash reward.  Then it was time to eat.  Sandwiches, veggie tray, chips, pretzels, and plenty of desserts were there to eat.  What is better to do on a full belly than get an extra helping of a slot car race in afterwards.  There were 16 racers that stayed to wash down all the good food with a race.  Taking the win in the banquet race was Bill Brenner.  Bill won 2 segments on the night in route to his victory.  Second went to Jim Levan.  Jim won 2 segments.  Third went to Randy Haydt.  Randy won 3 segments on the night.  Fourth went to Sheldon Hiester. Sheldon won 1 segment on the night.  Rounding out the top 5 was Shane Hiester.  Shane won 3 segments on the night.  The rest of the field were 6-Bob Amore (2 wins), 7-Cory Reinhard (1 win), 8-Eric Beard (2 wins), 9-Brian Vanbuskirk (1 win), 10-Steven Kercher (1 win), 11-Billy Decker, 12-Toby Reinhard (2 wins), 13-Dennis Kercher, 14-Justin Fake, 15-Matt Fake, and 16-Hunter Fake.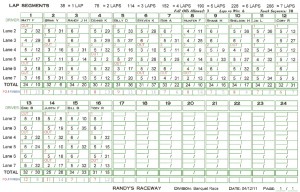 We ran the stock red band motor pan chassis IROC cars.  Thanks to everyone for a fun and successful 2010-2011 season at Randy's Raceway.  I hope next year is as good to all as this year was for us.  We have a good little group here right now let's keep it going.  I hope to see some of the new people at the test sessions to help out and get everybody running as close to each other as possible.  See you in the Fall of 2011 for another fun year of racing in Kutztown.
Special Thanks to:
Randy Haydt for his hospitality all season long, and great venue for slot car racing.
Dale Stengele for the trophy donations.
RMS Motorsports for the donation of parts at the banquet.
Billy Decker for the sweatshirt donations.
Bob Amore for the body donation at the banquet.
Tracy Readinger for the decals.
Scott Bender for taking banquet photos.
Eric Beard for giving the banquet race winner $10.00.
Randy Haydt for his Hot Wheels collection.