Shane Hiester was flying on the 1st Tri-Oval Race of 2021 and cruised to a strong TYCO Coupe Modified feature event win. Shane won 3 segments in his run to the win. Matt Light finished a strong 2nd with 2 segment wins in his run to the 2nd place finish. Wrapping up the podium was Jim LeVan with 3 segment wins on the night.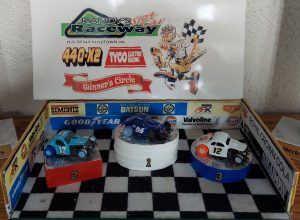 4th – Randy Jay Haydt – 1 segment win
5th – Michael Mackaravitz – 1 segment win
6th – Sheldon Hiester – 3 segment wins
7th – James Hammershock
8th – Brian Vanbuskirk
9th – Eric Beard
10th – Tony Zappacosta
11th – Jordan H.
12th – Bill Decker
13th – Gene Koose
Next Up:
October 12, 2021
Randy's Raceway Tri-Oval
Twin Doubleheader – Nascar & IROC Racing
TYCO Quad Hoppers by Michael Mackaravitz