Randy's Raceway Race Results from Tuesday, December 14, 2021
By: Wenner Media Group
***

Sheldon Hiester

scores a popular TYCO Modified Feature Win on the Randy's Raceway 8 Lane Oval
***
Sheldon won 2 segments on Tuesday night in a strong run from the 8th starting spot to secure the feature win. Sheldon and Shane Hiester returned to Randy's Raceway for 20th season of racing action and they are certainly bringing the heat each week. Both of the boys have won several feature wins in the 1st half of the 20th season of racing action. Finishing in 2nd, Mr. Spoons –

Brian Sponagle

with 4 segment wins in a strong run to the podium. Wrapping up our podium spot,

Michael Mackaravitz

in 3rd with 4 segment wins on the night.

Michael Mackaravitz

was only 2 track pieces out of 2nd place.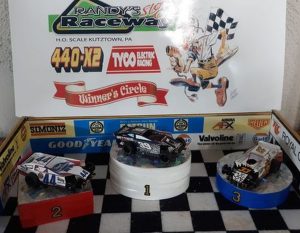 4th –

Shane Hiester

– 1 segment win
5th –

Matt Light

– 2 segment wins
6th –

Jordan Hess

– 1 segment win
7th –

Randy Jay Haydt


8th –

John Kosmoski


9th –

Mike Feltenberger


10th –

Bill Decker


11th –

Jim LeVan


12th – James Hammershock – 1 segment win
13th – Brian VanBuskirt
14th – Joel Laudenslager
15th –

Greg Leedy
High Bank Chatter:
15 Racers in attendance on Tuesday Night, Thanks to everyone for coming out. It was nice to have Mike Feltenberger, Joel Laudenslager & Greg Leedy back racing with us. Congrats to Bear for scoring a
Top-10 finish. It was a very nice to Heather & Brayden Light pitside last night. I am hearing word that Brayden may be in line to become the new chief starter at Randy's Raceway. Brayden's 3-2-1 Power starts brought some enjoyment to the racers last night.
Santa
is coming in 10 days. Post below in the comment section what Slot Car item you hope Santa
delivers to your home.
Next Up:
Tuesday, December 21, 2021
TYCO 410 Sprints & IROC Racing
IROC Class –

Michael Mackaravitz

TYCO Dump Trucks
Randy's Raceway 8 Lane Oval – Lanes 3 to 8
Doors Open @ 545p
Practice @ 600p
Racer Draw @ 645p
Racing Action @ 700p
In 2 weeks 12/28/21 – The
Famed

Scott Bender

Photo Night
TYCO Modified Racing on the Randy's Raceway 8 Lane Oval
15 Lap Special Modified Event
We will race every lane


Scott Bender

is a local Racing Photographer. Scott shoots at Grandview Speedway every Saturday night and can be found traveling all over the northeast grabbing outstanding racing photos of the cars and stars of the northeast racing scene. Scott will generously donate several 8×10 Photos of popular racing drivers to several racers in attendance.