Modified Race Results: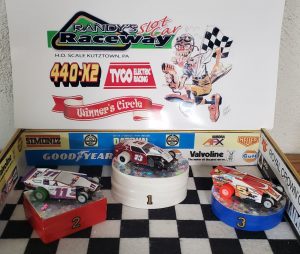 Winner: Tom Wenner
2nd Place: Brian Sponagle
3rd Place: Randy Jay Haydt
Tom Wenner races a fresh Decker Motorsports built car to a convincing 1st career Modified Feature Win. Tom won all 4 segments on the way to his 1st career Modified feature win. Finishing in 2nd having a very strong night with 1 segment was Brian Sponagle. Brian won 1 segment win. Rounding out the podium was track promoter Randy Jay Haydt. Randy won 1 segment. The top 3 were extremely tight, All on the lead lap. Only 10 track pieces separated 1st to 3rd.
4th – Toby Reinhard
5th – Mike Fitzgerald
6th – Eric Beard
7th – Jim LeVan
8th – Bill Decker